NEWS _ Sick Sideways rings in 2011 with a 1,2 finish after 24 hours at PBIR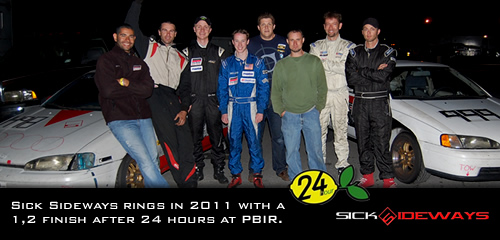 Jupiter, FL (01.02.11): Formerly known as "Moroso Motorsports Park", Palm Beach International Raceway hosted [PBIR] the 24 hours of Lemons event over New Years Eve 2010. The race would start at 12:00am Dec. 31 with the checker flying at 12:00am on New Years day, Jan. 1, 2011.  Building a second Toyota Paseo to add to their single car Lemons team, Sick Sideways entered two cars with their sights set on taking first & second place.  The #998 car remained in Audi R10 tribute livery, while the new #999 was a throwback to the IMSA GTP days, paying homage to the championship winning Toyota Eagles.
Knowing their goal would be very tough to reach, especially in a full 24-hour race with cars that cost $500, the team was built around a solid, fast, and smart driver lineup.  John Dean II, Jonaton Jorge, Tyler Wolfson, and Tyler Cook were in the #998 car while Johnny Kanavas, Glenn Howle, David Levine, Christian Szymczak, and L.D. Mendez would pilot the #999.  While not the fastest cars out there, the team knew their strength would be in fuel economy and smart driving.  After a full day of testing and getting all the drivers comfortable in the cars, the team finished up some final prep and laid out their race strategy.
John Dean would start the race in the #998 with Christian Szymczak starting the #999.  Not long into his opening stint Dean began to have cooling issues in the #998 car causing the temperature to fluctuate, nearly overheating the car in the first hour.  The silver Toyota was brought in and water was added to the system before sending JD back on track.  After narrowing it down to a thermostat issue, Kanavas called Dean back in.  Head mechanic Josh Kuen modified the thermostat and added more water.  The car was sent back on its way, showing no more signs of overheating and only losing about 10 laps because of the problem.  The #999 ran a flawless first stint with Szymczak clicking off fast laps and staying out of trouble.  Mendez would take over the #999 followed by Kanavas, Howle, and Levine, with Wolfson followed by Jorge and Cooke in the #998 car.   Running consistent and smooth, both cars kept clicking off laps building a substantial lead in Class-B.   The white #999 car lead most of the race in Class-B up until a few black-flag penalties handed the lead off to the sister #998 car.
When the final 3-hour mark came, the two Sick Sideways entries were on different fuel strategies.  Howle would make his final stop, handing the car over to Levine who would run the longest stint possible within the theoretical fuel window, gambling on one or two caution periods to help get the car to the end. The silver #998 car would have to make one more stop with Kanavas calling Dean in with just over an hour left.  "We called JD in early so we could take on less fuel and spend less time in the pits." said Kanavas.  "We knew we had both cars in the top-5 overall, but did not want to lose any ground as 3rd overall was in sight."  Cooke was no longer in conservation mode and was told to lay down some fast laps to both maintain and possibly gain position.  Levine was on a somewhat different strategy, given the orders to maintain his quick pace while conserving as much fuel as possible.  Nearing the end of the race, both Levine and Cooke reported that their cars were very low on fuel.  The team's wishes were granted after a couple short caution periods aided in their overall fuel economy.  The team stuck to their strategy with both cars crossing the line at 12:00am Jan 1, 2011 running on fumes.  "Our fuel light was on for many laps at the end and the car coughed for fuel immediately after I crossed the start/finish line… Amazing! " said David Levine in the #999 car.
Sick Sideways 1 (#998) finished 4th overall/1st in class with Sick Sideways 2 (#999) only 4 laps behind and 5th overall/2nd in class, 37 laps ahead of 3rd place.  "We can't believe it…  We had a goal and we did it: A 1,2 finish!  The cars were a blast to drive, our drivers did a perfect job, and we stuck to the plan."  said Team Owner John Dean II.  "What a great way to celebrate New Years.  We'll never forget this one…"
_________________________________________________________________________________________________
Sick Sideways is a full service motorsports company based in Sebring, FL.  SS Motorsports offers race car rentals, preparation, transportation, maintenance, trackside support, setup services, driver coaching, marketing/media services, race car storage, and more.   The team is currently planning their 2011 season and seats are available for 2011 24 Hours of Lemons and ChumpCar events.
visit > www.SickSideways.com | info [@] sicksideways.com
blog event coverage and photos at: www.tracknights.blogspot.com