NEWS _ Mitchum Motorsports' Watkins Glen Recap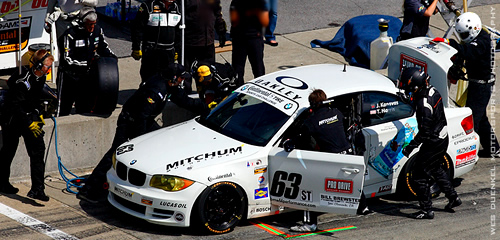 Mitchum Motorsports' Watkins Glen Recap
Watkins Glen, NY (June 30, 2012) – The Mitchum Motorsports #6 Chevrolet Camaro claimed yet another top ten finish for the team here at Watkins Glen International. Co-drivers Tim Bell and Gunter Schaldach finished seventh; tying the team's highest finishing position of the year.
The #62 sister car finished 15th, after having been rebuilt overnight. Friday's qualifying session ended when the car contacted the wall and flipped, causing heavy damage. Mitchum's crew worked early into the morning to fix the car and get it ready for the race. Their tireless dedication paid off when the car returned to the track for the 9 am practice session. George Richardson and Joey Atterbury drove strong stints to bring the car home 15th – despite some contact late in the race that broke the front sway bar.
Mitchum's ST class BMW also ran in today's race, finishing 19th after starting 28th. Todd Harris qualified and started the race and turned the car over to Johnny Kanavas mid way through the 2.5 hour race. A late race penalty due to some on track contact forced an additional pit stop and cost the team several spots in the finishing order.
"It's been a heck of a weekend here at the Glen. From the incident in qualifying, to the late night rebuild, we definitely got our money's worth out of this race," said team principal Chris Mitchum. "I said it earlier but the crew deserves much of the credit for the 62 even making the race, let alone a top 15 finish. I have some of the best guys working for me and truly appreciate all of them. We got everything out of the race today. The car didn't just make the race, it had good pace and it literally bobbled on fuel on the cool down lap so we called that perfect."
"Tim and Gunter put on a great show in the #6 car. They ran up front all day, even leading the race at one point. We seem to be finding more speed at each race and it's nice to see the car up in the standings.
"The BMW didn't have quite the pace to win the race but it certainly would have finished much higher had it not been for the penalty. It's unfortunate when a racing incident is deemed a penalty but it's all part of racing. We'll learn from that and move on to Indianapolis," added Mitchum
The next round of the GRAND-AM Continental Tire Sports Car Challenge is Friday July 27th and the famed Indianapolis Motor Speedway. You can watch the race broadcast from Watkins Glen on SpeedTV July 14th at 1:00 pm.
source: Mitchum Motorsports