NEWS _ Kanavas, Derek Jones Join Skullcandy Team Nissan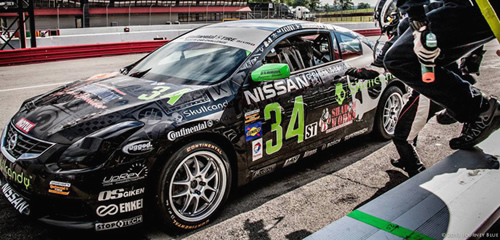 Skullcandy Team Nissan is proud to announce the addition of Johnny Kanavas and Derek Jones to it's 2014 ST program.
Both to drive in the team's Nissan Altima ST cars in the IMSA Continental Tire Sports Car Challenge. Bringing CTSCC experience with them, Johnny and Derek are a great addition to an ever strengthening program.
A fixture in the series over the last few years, Johnny is coming to the team after 2 years in a BMW. Showing ever increasing potential and a drive for success, much expectation rests on his shoulders.
Derek, having entered the series for the first time last season, proved his worth in only his fourth start, winning the SFP Grand Prix at Kansas Speedway. Bringing a varied experience ranging form touring cars to vintage formula one cars, 2014 will be his first full season in the series.
Lara Tallman, team owner: " Derek and Johnny are going to be an awesome addition to our effort in 2014. They are a couple of stand up guys and let their driving speak of itself. The creative minds in our team have worked really hard over the last few months to take our program to the next level. This announcement is a natural step in that process."
Johnny Kanavas: "I am very excited to join Skullcandy Team Nissan. We have been working on this for a while. We have much in common and logistically we are well aligned, testing and developing the program together. I am excited to be in the car that has shown so much potential and won Daytona in 2013."
Derek Jones: "The opportunity to enter the series on a full time basis is sweet. Doing it with Skullcandy Team Nissan is sweeter. I am very happy to join a group of great people and look forward to earning my place. This is one of the toughest fields anywhere but we are up for it."
- See more at: http://www.imsa.com/articles/kanavas-derek-jones-join-skullcandy-team-nissan#sthash.dQUu0WAE.dpuf