NEWS _ Johnny Kanavas Back for 2013 with Mitchum Motorsports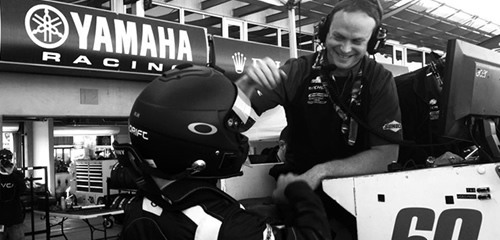 Johnny Kanavas Back for 2013 with Mitchum Motorsports
Virginia Beach, VA (December 31, 2012) – Mitchum Motorsports is proud to announce that 2012 team driver Johnny Kanavas will be returning to the #63 Mitchum Motorsports BMW 128i ST. Johnny was the lead driver of the #63 in all 10 events on 2012's calendar; with a season high finish of 10th.
Mitchum Motorsports is ready to attack the 2013 Continental Tire Sports Car Challenge season, after using the 2012 season to develop the highly capable BMW 128i ST racecar. "2012 was a trying year for our BMW program, but it was very insightful, and lots of good and speed came out of our trials. The cars are stronger, the team is stronger, and it only made sense to have our strongest driver come back and really show the capabilities of the car he helped develop," says team principal Chris Mitchum. "Johnny has immense experience behind the wheel, and was critical in contributing to the BMW program in 2012. Now the gloves are off, and we're all expecting great things out of 2013."
"I'm very excited to return with Mitchum Motorsports as Lead Driver for 2013." says Johnny Kanavas. "To be in the position of Lead Driver for this team is something I am both very proud of and thankful for. Along with welcoming me into his racing family in 2012, Chris Mitchum has been very supportive of my career and really believes in me as a driver. I can't wait to get the season started and see what we can do with this developed and established ST effort."
"The team is really resilient. With them, the assistance from Dinan Motorsport, the key driver feedback, and off-season endurance testing, this car is really going to come alive this season. We are focusing our Grand-Am energy and effort solely on our two BMW 128's. I really feel like it is going to be one of the more competitive cars in ST this year; coupled to a solid driver lineup, headed up by Johnny Kanavas, it's difficult to not be excited for Daytona and beyond." says Mitchum.
The remainder of the driver line-up and sponsors will be formally announced at the Roar Before the 24 Daytona Test Days.
twitter.com/johnnykanavas | @johnnykanavas
source _ Mitchum.ms