NEWS _ Kanavas and Mitchum Motorsports Ready To Take On Continental Tire Sports Car Festival in Monterey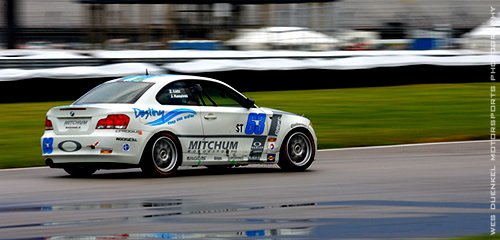 Kanavas and Mitchum Motorsports Ready To Take On Continental Tire Sports Car Festival in Monterey
Coming off a strong run at the inaugural Brickyard Sports Car Challenge at Indianapolis Motor Speedway, Johnny Kanavas and the Mitchum Motorsports BMW Team are set and ready for Round-9 of the GRAND-AM Continental Tire Sports Car Challenge at Mazda Raceway Laguna Seca, Sept. 7-8.  With a well-prepared car and crew, the Mitchum Motorsports team is coming to MRLS with a competitive package, ready to take on the famous Mazda Raceway Laguna Seca road course.
Joining Kanavas as teammate/co-driver for the Continental Tire Sports Car Festival Powered by Mazda is longtime friend Byron Payne.  "I'm really looking forward to Laguna…  This is somewhat of a home track for me, the guys have spent a lot of time getting the car right, and it will be great sharing a car with my old friend Byron." Commented Kanavas.
"With the BMW's being a new program for 2012 and having Kanavas behind the wheel of the #63 all year, we have made a lot of progress with development of the BMW this season." Says Team Principal Chris Mitchum.  "After facing a little adversity early in the year, we have now proven we have a competitive effort and are excited to pair Johnny and Byron for this event."
Johnny continues to represent partners Destiny Deep Sea Water, Oakley, Drift Innovation, Bill Brewster Automotive, and Rockwell Time throughout the 2012 season.
The green flag for the GRAND-AM Continental Tire Sports Car Festival Powered by Mazda flies on Saturday, September 8 @ 2:30pm (PT)/5:30pm (ET), with qualifying taking place at 10:55am (PT)/1:55pm (ET) on Saturday at the picturesque Mazda Raceway Laguna Seca in Monterey, CA.  For more info and live timing & scoring, visit: www.GRAND-AM.com
_______________________________________________________________________________________________________
_______________________________________________________________________________________________________
Partners _
_______________________________________________________________________________________________________
www.Facebook.com/JohnnyKanavas
source _ EPRODIUS