NEWS _ Mitchum Motorsports Completes Driver Lineup for 2012 Season
Mitchum Motorsports Completes Driver Lineup for 2012 Season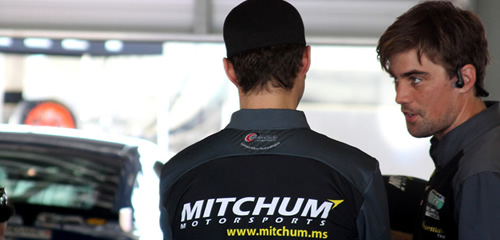 – George Richardson and Johnny Kanavas Signed to Full Year Programs

Virginia Beach, VA (March 22, 2012) George Richardson, a rising star from the UK, has signed with Mitchum Motorsports for the remaining nine races of the 2012 GRAND-AM Continental Tire Sports Car Challenge Series. Richardson will be joining Tim Bell in the ExtremeBidder.com #6 GS Class Chevrolet Camaro, who competed in the opening round of the series at Daytona in January with Mitchum Motorsports.
Johnny Kanavas finalized his season plans after competing in the #63 ST Class BMW 1-Series at Daytona and will be on board for the entire year. Representing Destiny Waters and Oakley, Kanavas will be co-driving with Sarah Cattaneo who looks to compete for podium finishes while raising awareness of breast cancer by participating in the MZ and Emmers Sports Bra Auction for Breast Cancer.
Mitchum's two additional cars, the #62 GS Class Camaro and the #60 ST Class BMW 1-Series, have season long driver pairings which were announced prior to the opening round at Daytona. Joey Atterbury and Gunter Schaldach will share driving duties in the #62 car, now carrying the Gamma Lab colors, while Robert Stout and Kevin Gleason will co-drive the #60 BMW. Atterbury and Schaldach had a disappointing finish in Daytona after a mechanical issue forced an early retirement so they are looking forward to the opportunity for a good showing at Barber Motorsports Park later this month. Stout and Gleason finished a solid 7th at Daytona and look to further improve upon that next time out.
George Richardson
George Richardson is the English addition to Mitchum Motorsports for 2012. The 20 year old has raced in the Porsche Carrera Cup GB, the UK's premier sports car series for 3 years, is making the leap to the Continental Tire Sports Car Challenge Championship, alongside his UK commitments. Never having raced in the US before George hopes this will be the start of something special and we are looking forward to working with him. He will contest 18 race weekends this year on both sides of the Atlantic.
Johnny Kanavas
Kanavas has over 20 years of competitive driving experience ranging from endurance road racing to professional drifting. 2012 marks his first full season in GRAND-AM competition. Previously he has competed in the World Challenge series, Playboy Mazda MX-5 Cup, Formula Drift and more. Winner of the 25-Hours of Thunderhill, Kanavas brings some strong endurance racing experience to the table driving for both factory and private teams.
source: Mitchum.ms