NEWS _ Kanavas Heads To Homestead-Miami Speedway For The Kia-200 Focused And Ready To Move Forward
Kanavas Heads To Homestead-Miami Speedway For The Kia-200 Focused And Ready To Move Forward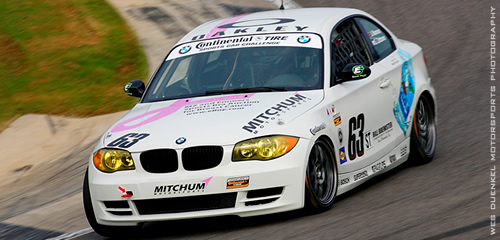 San Clemente, CA (04.24.12): After facing a bittersweet Round-2 of the GRAND-AM Continental Tire Sports Car Challenge at Barber Motorsports Park, Johnny Kanavas and teammate Sarah Cattaneo are focused on bringing home a solid result for the #63 Mitchum Motorsports BMW 128i in this weekend's Kia-200 at Homestead-Miami Speedway.  The team made strides with the development of the car during the Barber weekend.  "We made a lot of progress with the car at Barber.  We kept getting faster by learning what the car liked." said Johnny Kanavas.   Unfortunately, the #63 suffered a major oil leak early in the race ultimately ending their effort early.
The Mitchum Motorsports crew have been hard at work getting both the team ST-Class BMWs and GS-Class Camaros ready for Homestead after a messy event at Barber.  Along with the #63 BMW suffering mechanical issues, one of the team Camaros suffered heavy damage during a lap-1 incident, but came back to finish the race.
"We are looking to carry our development momentum into Round-3 at Homestead and take our #63 to the front of the ST field." commented Kanavas.  "Myself, teammate Sarah [Cattaneo], and the entire Mitchum Motorsports Team have gelled well together and I'm very thankful for the opportunity to run such a good/fun car with this team for the 2012 season.  We are very confident in our effort and are working hard each race to get that little BMW up front…"
Johnny Kanavas wishes to thank partners: Destiny Deep Sea Water, Oakley, and Drift Innovation for all their support in the 2012 GRAND-AM Continental Tire Sports Car Challenge.
The green flag for the Kia 200 at Homestead-Miami Speedway flies on Saturday April 28, at 2:45pm [ET].  The event will air on SPEED Channel May 12, 12:00pm [ET]/ 9:00am [PT]
Event info at: www.GRAND-AM.com
____________________________________________________________________________________________________________________________________________________
Partners _
Destiny Deep Sea Water
Destiny Deep Sea Water is a new healthy Mineral Water that is unique in its ability to hydrate the body quickly. The water comes from the depths of the sea in Hawaii – after a 2000-year journey that begins with the melting ice off the southern tip of Greenland. Imagine – no Chemicals, Pollutions or Carcinogens! www.DestinyDeepSeaWater.com or Or see our Retail Products and Locations at www.DestinyWaters.com
————————————————————————————
Oakley
Oakley, Inc. is a sport and lifestyle brand, driven to ignite the imagination through the fusion of art and science. Building on its legacy of innovative, market-leading optical technology, the company manufactures and distributes high performance sunglasses, prescription lenses and frames, goggles, apparel, footwear, and accessories.  The essence of the brand is communicated through hundreds of professional and amateur athletes who depend on Oakley products to provide them with the very best while they redefine what is physically possible. www.Oakley.com
————————————————————————————
Drift Innovation
Drift is a leading action sports technology company specializing in the capture and sharing of digital imagery across all platforms.  Drift manufactures quality cameras and accessories, inspiring action sports enthusiasts and like-minded individuals to document their experiences, capture the emotion and share their vision.  www.DriftInnovation.com
————————————————————————————
www.Facebook.com/JohnnyKanavas
————————————————————————————