NEWS _ Kanavas & Lutz Have Strong Early Run at Indy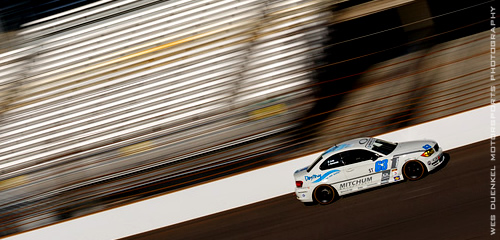 Kanavas & Lutz Have Strong Early Run at Indy
Making a good showing at the very first sports car race ever to be held at the Indianapolis Motor Speedway was priority for the Mitchum Motorsports BMW team.  Drivers Johnny Kanavas and Zach Lutz came to Indy with strong confidence after completing a successful two-day test at Indy a few weeks prior to the Brickyard Sports Car Challenge held July 27th.  The #63 Destiny Deep Sea Water/Mitchum Motorsports BMW was dialed in and ready to race in Round-8 of the GRAND-AM Continental Tire Sports Car Challenge.
With a very tight one-day schedule, the GRAND-AM Continental Tire Sports Car Challenge cars had their work cut out for them.  The #63 BMW had some problems with a slipping clutch in morning practice, forcing Kanavas to immediately report to the pits, ultimately sending the car back to the trailer for repairs before the quickly approaching qualifying session.  After making some repairs, the Mitchum crew rolled the car out onto the grid just as qualifying would begin.  Zach Lutz would qualify the car and end up in the 21st starting position for Round-8 of the CTSCC.
Making a great start as the green flew Lutz would work his way through the field during the first hour of the race.  The #63 Destiny Deep Sea Water/Mitchum Motorsports BMW would run in the top-3 of the ST-class throughout much of the first half of the race.  Lutz pitted the #63 car just past the halfway point of the race, handing the car over to Kanavas during a caution period.  Johnny would re-enter the race in the 11th position, but not before the team mounted rain tires on the #63 machine due to a sudden downpour.  Unfortunately, the massive rain would bring out a red-flag, stopping the race for nearly 40 minutes.  The race would eventually be restarted with only about 20 minutes left to go, leaving a stop for dry tires out of the question.  "The red flag period was very unfortunate for us." Reported Kanavas.  "We were happy to see the rain, but not happy that the race was stopped.  Once it went green again, our car didn't have the grip that the dry-tire guys had and we lost a few spots."  The Mitchum Motorsports/ Destiny Deep Sea Water BMW would finish in the 15th spot with the race finishing under yellow due to a crash on the front straight.
"As a racer, it was such a huge opportunity to drive at Indy and I greatly appreciate everyone that helped me get here…" commented Kanavas.   Johnny wishes to thank Destiny Deep Sea Water, Oakley, Drift Innovation, Bill Brewster Automotive, Rockwell Watches and Mitchum Motorsports for all of their support throughout the 2012 season.
Next up for the GRAND-Am Continental Tire Sports Car Challenge series is Round-9 at Mazda Raceway Laguna Seca in beautiful Monterey, CA on Sept. 7-8.  More info at:  www.GRAND-AM.com
___________________________________________________________________________________________________________
___________________________________________________________________________________________________________
Partners _
___________________________________________________________________________________________________________