NEWS _ Isman joins Kanavas and Mitchum Motorsports for Barber Round of CTSCC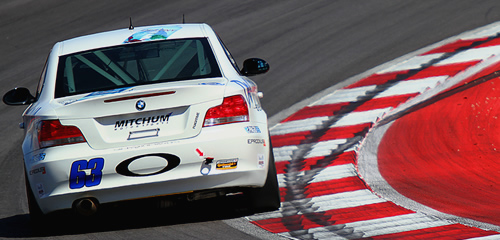 Isman joins Kanavas and Mitchum Motorsports for Barber Round of CTSCC
Virginia Beach, VA (April 2, 2013) – Drivers Adam Isman and Johnny Kanavas team up for Round-3 of the GRAND-AM Continental Tire Sports Car Challenge at Barber Motorsports Park, April 4-6.  Isman will return to Mitchum Motorsports after driving for the team in 2012 at Mazda Raceway Laguna Seca and most recently with the Compass 360 team in the last round of the series.  The team is ready to take on the picturesque 2.3-mile/17-turn Barber circuit, located in Birmingham, AL.
"I'm very excited to be back with Mitchum Motorsports at Barber Motorsports Park. I am looking forward to co-driving with an established series driver in Johnny and together we are hoping to get a strong result for the team. I can't wait to get to Alabama and get the weekend underway." said Isman.
With a brand new racecar built for Round-2 and a strong driver lineup, the Mitchum Motorsports team is looking to bring home a strong result at Barber.
"We have had a bittersweet start to 2013.  The 63 car ran well at Daytona and we clawed our way to the top-10 before being taken out at the end of the race.   At COTA we had a strong new car but suffered a small mechanical issue early on, forcing us several laps down."  said Kanavas.  "Barber is a good BMW track and we are coming in with a strong driver pairing and a team that's hungry for the podium.  I'm really looking forward to this one with Adam."
Mitchum will field both the #63 Destiny Deep Sea Water BMW 128i with drivers Johnny Kanavas and Adam Isman along with the #62 BMW driven by Jim Jonsin and Michael Johnson.  The green flag flies on Saturday April 6, @ 5:00pm (EST).  The event's television broadcast will be on SPEED Channel April 13 @ 2:00pm (EST).
More Info and Live Timing & Scoring @ www.GRAND-AM.com
_________________________
About Mitchum Motorsports
Founded in 2001, Mitchum Motorsports competes in multiple professional and club venues, including the GRAND-AM Rolex Series and Continental Tire Sports Car Challenge, N.A.S.A, SCCA, and PCA.
Since 2010 the team has been a mainstay in the GRAND-AM Continental Tire Sports Car Challenge and Rolex Series campaigning a pair of ST class BMWs, a pair of GS class Camaros and a GT class Porsche. The 2013 season GRAND-AM season will see a focused effort on the ST class BMWs as the team competes for the championship.
Away from the track Mitchum Motorsports specializes in race car construction, development, preparation and trackside support, as well as performance street car service.
For more information and to follow the team all season long visit www.mitchum.ms.
_________________________
twitter.com/adam_isman | @adam_isman
_________________________
twitter.com/johnnykanavas | @johnnykanavas
_________________________
source: EPRODIUS