NEWS _ Mitchum Grabs Top 10 Finish – Kanavas and Payne Finish Strong at Laguna Seca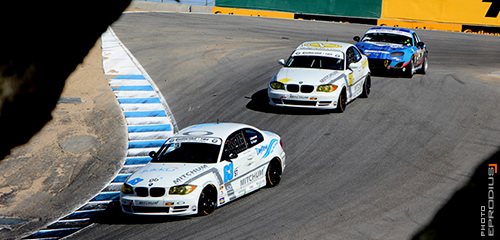 Mitchum Grabs Top 10 Finish
posted: September 09, 2012
Mitchum Grabs Top 10 Finish
Kanavas and Payne Finish Strong at Laguna Seca
Salinas, CA (September 8, 2012) – Johnny Kanavas made a last lap move to grab a top ten finish in the Mitchum Motorsports Destiny Sea Waters ST class BMW. Co-driver Byron Payne qualified and started the car in the 2.5 hour GRAND-Am Continental Tire Sports Car Challenge race at Mazda Raceway Laguna Seca before turning it over to Kanavas. Both drivers managed to keep the car clean in what turned out to be a crash and caution filled race.
"What a crazy race. I don't think I have ever seen this amount of carnage. Cars were getting hit on nearly every lap and we seemed to take the brunt of the trauma," said team principal Chris Mitchum. "Despite all of the damage and disappointment we did manage a bright spot. Johnny drove an amazing stint and made some moves on the last lap to get that top ten finish. He and Byron deserved it. They needed a good finish and so did the crew. It was nice to see some smiles along the pit wall even with the disappointing finishes by the other cars."
"This one feels like a podium finish to us after all the adversity we have faced this year." commented Kanavas.  "It wasn't easy, coming from the back up to 10th with all the cautions we had, but I made it my goal to get at least one spot at each restart as we began to see a trend with the yellows.  We had a great car today and the strategy calls made by Chris [Mitchum] were incredible."
Johnny Kanavas again wishes to thank partners Destiny Deep Sea Water, Oakley, Drift Innovation, Bill Brewster Automotive, and Rockwell Time throughout the 2012 season.
The series heads to Lime Rock Park in Lakeville, CT for the final Round-10 of the GRAND-AM Continental Tire Sports Car Challenge, Sept. 28-29.  More info at www.GRAND-AM.com
source: www.mitchum.ms
_______________________________________________________________________________________________________
_______________________________________________________________________________________________________
Partners _
_______________________________________________________________________________________________________
www.Facebook.com/JohnnyKanavas