NEWS _ Mitchum Signs Pumpelly – Veteran to Campaign BMW at Mid-Ohio with Johnny Kanavas
Veteran to Campaign BMW at Mid-Ohio with Johnny Kanavas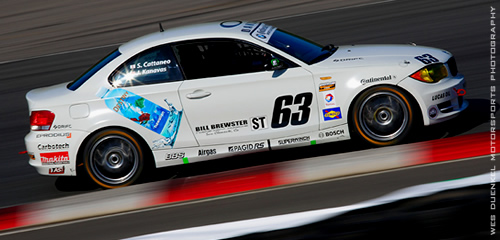 Virginia Beach, VA (June 4, 2012) – Spencer Pumpelly will be campaigning the #63 Mitchum Motorsports ST Class BMW with Johnny Kanavas on June 9th at the Mid-Ohio Sports Car Course in Lexington, OH. The duo will share the 1-Series BMW for the two hour and 30 minute GRAND-AM Continental Tire Sports Car Challenge race Saturday morning.
Pumpelly, a two-time Rolex 24 hours at Daytona winner, will be driving the proverbial racing double-header by first taking to the track in the GRAND-AM Continental Tire Sports Car Challenge race at 11:00 am followed by the GRAND-AM Rolex Series race at 4:30 pm. He'll be looking to bring a pair of trophies back home to California from Mid-Ohio.
"I am thrilled to have Spencer driving for us this weekend. We go back a long way. We were at James Madison University at the same time and raced together back when I was still behind the wheel – we co-drove a Porsche in the 1998 Rolex 24," said team principal Chris Mitchum. "We have stayed friends all these years even while competing against each other so it's great to finally have him in a Mitchum Motorsports car."
"Racing with Chris again is going to be great. I've been watching his team over the past few years and have been very impressed with how he has built his program from one car in 2010 all the way up to five cars at Daytona this year," said Pumpelly. "The racing community is a family and I certainly feel like a part of the Mitchum Motorsports family. Chris's dad (Richard) was my crew chief a few years ago so it will be nice to work with him again as well."
Kanavas, who joined Mitchum Motorsports for the 2012 season, looks to capitalize on the new found speed of his co-driver. Having already proven he has the talent to compete in GRAND-AM, he drove from last to 12th during his stint at New Jersey, Kanavas is excited about the opportunity to race for the win.
"I am looking forward to sharing the car with Spencer this weekend. He is a great driver with a very impressive resume, so I think we have a great opportunity to show just how good this Mitchum Motorsports BMW is," added Kanavas.
"We are four races in to the season and have made real progress. We only took possession of the BMWs a couple of weeks before Daytona so we have been working non-stop. We doubled our car entries this year (four) so everything is bigger – more crew, more haulers, more everything," continued Mitchum. "We have the cars where we want them to be now and our driver pairings are incredibly strong now – Johnny and Spencer in the #63 and Robert (Stout) and Kevin (Gleason) in the #60."
Dinan has stepped up to help ensure we have the motors we need and I have to say Pagid has been a great partner as well, getting us the right pads for these cars. We are headed to Mid-Ohio in the best shape we have ever been in and I fully expect that both BMWs will be competing for podium finishes," added Mitchum. "We are racing in GRAND-AM because we want to win and with the crew, drivers and cars we have, all we need is a little racing luck to fall our way and we'll be where we wanted to be."
Follow the race live at www.GRAND-AM.com via live timing and scoring on June 9th and catch the SPEED TV broadcast at noon on June 17th.
source: Mitchum Motorsports