NEWS _ Kanavas Joins Mitchum Motorsports' Assault on the 13-Hours at VIR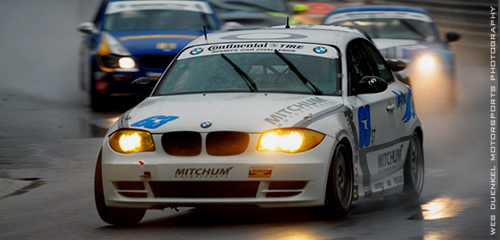 Mitchum Fields Four Cars for VIR 13-Hour
- Twelve drivers join Mitchum Motorsports for the fall classic at VIR
Virginia Beach, VA (October 24, 2012) – Mitchum Motorsports heads to Virginia International Raceway with four cars and 12 drivers for Saturday's SCCA 13-hour race (aka - The Charge of the Headlight Brigade). The GRAND-AM team brings two of its Continental Tire Sports Car Challenge ST class BMWs along with a Spec Miata and an MX5 Miata.
Leading off the lineup is the #33 Spec Miata which will be co-driven by Mitch "McLovin" Reading, Bob "Rockstar" DiMarco and Matt "Midnight" DiMarco. This successful trio has won the SSM class at this race the past two years and looks to continue their success as they move to the highly competitive SM class. Regulars in the Mitchum Motorsports Miata, all three drivers know their way around VIR and expectations are high for this race.
The #30 MX5 Miata which will compete in the SM5 class keeps it all in the family – the Gleason family that is. GRAND-AM driver Kevin Gleason will share the car with father Chris Gleason Sr. and brother Chris Gleason Jr. The family trio has raced together previously with great success and is looking forward to putting on another good show this weekend.
Mitchum's two ITE entries are the team's GRAND-AM Continental Tire Sports Car Challenge ST class BMWs. The #60 VBD Graphics BMW will see James Hunt, Will Fox and Nai Nan Ko Jr. split the driving. All three drivers have plenty of on track experience at the SCCA level with Fox and Ko Jr. previously racing with Mitchum Motorsports at VIR.
The fourth and final entry for this weekend's endurance race is the all GRAND-AM team. Mitchum drivers Johnny Kanavas and Robert Nimkoff will join forces with rival GRAND-AM driver Ashley McCalmont in the #63 Destiny Deep Sea Waters BMW. This is the same car Kanavas raced in all season in GRAND-AM. Nimkoff also has some seat time in the car having joined Mitchum Motorsports for the GRAND-AM season finale at Lime Rock Park just last month.
"I'm really looking forward to running the #63 Destiny Deep Sea Waters BMW in the 13-hour. The Mitchum guys have put together a major effort with some very talented drivers and I'm excited to be a part of it," said Kanavas. "If we drive smart and stay out of trouble, the BMW should be a really strong car for this long race."
"This is by far the strongest lineup we have ever assembled for the VIR 13-hour. We are going all out with our efforts and have our sights set on podium finishes for all four entries," said team principal Chris Mitchum.
"Having spent all season developing the BMWs we'll use this endurance race as the final shakedown before we rebuild the motors and completely freshen the cars for the 2013 GRAND-AM season. Daytona will be here before you know it so great to get another opportunity to put the cars on track," added Mitchum. "We are looking forward to a focused effort in ST next year and this is the first step – running the cars as long and hard as we can will show any weak points we didn't see during the regular season."
Back at the brand new facility in Virginia Beach, Mitchum and the crew has been busy outfitting the 20,000 sf shop. A performance preparation shop, focused on both race cars and track day cars, they are now full open for business after having moved from a smaller facility cross town this summer.
"Building out a new facility and moving operations is no small task for any business. It is especially challenging for a race team when it's done in the middle of a racing season. The guys did a great job balancing the racing the business back home this year and I am please to say we are fully open for business," continued Mitchum.
After the VIR 13-hour the team will head back to Virginia Beach to continue prepping for the 2013 Continental Tire Sports Car Challenge season as well as the Rolex 24 at Daytona where they plan to campaign their GT class Porsche once again.
source: www.mitchum.ms
___________________________________________________
Partners _
___________________________________________________________________________________________________________