NEWS _ Kanavas Focused on CTSCC Final Round at Lime Rock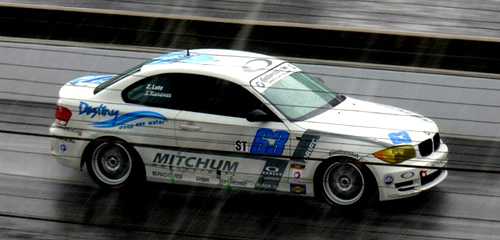 Kanavas & Mitchum Motorsports Head To Lime Rock For Final Round of the CTSCC
- Michael Johnson Joins Team
Lakeville, CT (09.27.12): Coming off of their strongest run of the 2012 Continental Tire Sports Car Challenge season, the Mitchum Motorsports/Destiny Deep Sea Water #63 BMW head to Lime Rock Park for the final round of the series.  Johnny Kanavas and Byron Payne came from as far as 31st to finish 10th at Mazda Raceway Laguna Seca in Round-9 of the series .  The team now heads to Lakeville, CT for the GRAND-AM Championship Weekend at Lime Rock Park and the final round of the CTSCC, September 28.
Joining Kanavas will be joined by new teammate Michael Johnson.  Johnson joins the Mitchum Motorsports team for the first time, bringing many years of both international and domestic racing at all levels to the table.
"Our top-10 felt like a podium finish for our team at Laguna Seca.  We have worked very hard this year and had to overcome quite a bit of adversity  with the development of our little BMW.  We now have a good car and are looking to carry the momentum from MRLS into Lime Rock." Commented Kanavas.
Johnny Kanavas continues to represent partners Destiny Deep Sea Water, Oakley, Drift Innovation, Bill Brewster Automotive, and Rockwell Time throughout the 2012 season and thanks everyone involved for their support. Johnny dedicates this race to his late Grandfather Walter Rydzon, a retired car designer, who's ashes are being spread over Yosemite National Park this weekend…
For the Lime Rock round the CTSCC series will split both the Street Tuner (ST) and Grand Sport (GS) classes into separate races for the first time this year.  The green flag for the ST-Class Race of Round-10 o the Continental Tire Sports Car Challenge during the GRAND-AM Championship Weekend at Lime Rock Park flies on Friday September 29 @ 3:20pm (ET) / 12:20pm (PT).
Follow live timing and scoring at www.GRAND-AM.com
For live broadcast, check www.SPEED2.com
(Standard television broadcast = Oct. 14 @ 1:00pm (ET) / 10:00am (PT)
_______________________________________________________________________________________________________
_______________________________________________________________________________________________________
Partners _
_______________________________________________________________________________________________________
www.Facebook.com/JohnnyKanavas
source _ EPRODIUS