NEWS _ Mitchum Motorsports at Road America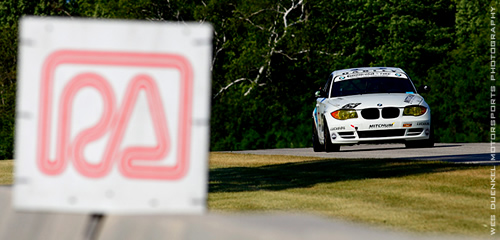 Road America a Mixed Bag for Mitchum Motorsports:
BMW Recovers from Incident to Finish 22nd
Second Camaro Taken Out Before Start of Race
Elkhart Lake, WI (June 22, 2012) – Mitchum Motorsports #6 Chevrolet Camaro finished 9th at Road America in the Grand-Am Continental Tire Sports Car Challenge race Friday night. Tim Bell and Gunter Schaldach co-drive the Camaro in the 2.5 hour race.
After starting 18th the duo worked their way through the field of 23 cars, at one point running as high as second, and ultimately gave the team its second top ten finish of the 2012 season.
Mitchum's second Camaro, the #62, didn't fare nearly as well. George Richardson qualified the car 15th but never took the green flag as he was caught up in a multi-car wreck as the field charged toward the start/finish line. Richardson had no chance to avoid the incident as he was hit from behind and turned into the wall – ending the race for the #62. The early retirement meant co-driver Joey Atterbury never got behind the wheel.
"What a tough race weekend for the Camaros. We got to the point where we had good race pace as shown by the #6 car moving up from 18th to 9th and unfortunately the #62 never got to show what it could do," said team principal Chris Mitchum.
The Mitchum ST class BMWs also had a difficult go of it at Road America. The #63 car driven by Todd Harris and Johnny Kanavas started 23rd and was working its way forward until it was hit and pushed into a gravel trap. Stuck and unable to free itself from the gravel, the car was towed out and quickly returned to pit lane for some minor repairs, but unfortunately it lost a lap in the process. Its ultimate finishing position of 22nd certainly didn't reflect the cars performance, but rather the bad luck in the race.
The #60 sister BMW, which qualified 25th, was pulled from the starting grid due to engine troubles. Neither Robert Stout or Kevin Gleason turned a lap in what was a disappointing weekend for the BMW crew.
"The drivers, crew and engineers worked as hard as they could to get the #60 car up to speed, but our engine let us down. It is crushing to the crew to not have a car start a race after putting so many hours into it but with the engine issues there was no way to run the car this weekend," added Mitchum.
The next stop on the GRAND-AM Continental Tire Sports Car Challenge Series is Watkins Glen International. The Mitchum team will head straight to New York from Wisconsin and finish preparing the cars along the way as the race is Saturday June 30th.
Watch the full race broadcast of the Road America race on SpeedTV at noon on July 8th.
source: Mitchum Motorsports