NEWS _ Kanavas Overcomes Adversity in Kia-200, Focused on New Jersey
Kanavas Overcomes Adversity in Kia-200, Focused on New Jersey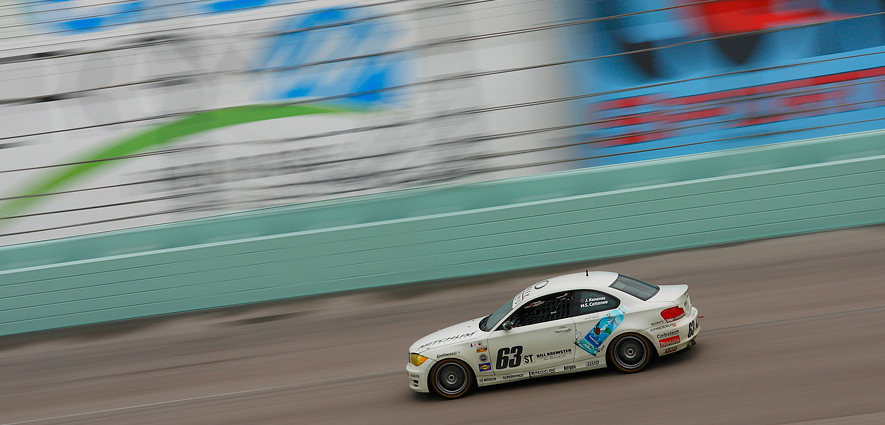 San Clemente, CA (05.08.12): Round-3 of the GRAND-AM Continental Tire Sports Car Challenge proved to be a frustrating weekend for the #63 Mitchum Motorsports BMW team.  Haunted with the elusive oil leak that took them out of Round-2 at Barber Motorsports Park, the team opted to swap engines before qualifying for the Kia-200.
"Unfortunately the car started smoking immediately on Thursday's promoter test day. " reported Johnny Kanavas.  "After the Mitchum guys threw a few fixes at it, we ultimately had to go to our backup motor for the race."  The #63 crew made quick work of the engine transplant and had the car buttoned up and ready to roll by qualifying on Friday afternoon.
Sarah Cattaneo would qualify the #63 towards the back of the pack as both car and driver had barely seen the track up until now.  "We seemed to lack a little on the banking with our older/backup motor, but are proud of the Mitchum team for getting us a car to qualify and race with only minutes to spare." said Johnny Kanavas.
Saturday's Kia-200 would start in the rain with Cattaneo taking the start and first stint of the race before handing over to Kanavas.  After a couple caution periods and a pit stop to take on tires, fuel and a driver change, the #63 was in and out quickly with a near flawless stop. Now on slick tires as conditions dried out, Kanavas had his work cut out as he focused on moving the little white BMW forward. Kanavas stayed out of trouble and ran a strong stint, bringing the car home in the 21st position (of 39).
The team now heads to New Jersey Motorsports Park for Round-4 of the CTSCC.  "We have addressed all the issues related to our problems at Homestead, so we're confident in that regard.  Sarah [Cattaneo] won this event last year so we are more focused than ever and look to make a strong run in New Jersey." commented Kanavas.
Johnny Kanavas wishes to thank partners: Destiny Deep Sea Water, Oakley, and Drift Innovation for all their support in the 2012 GRAND-AM Continental Tire Sports Car Challenge.
The green flag for the B+ HEROES 200 presented by BCKSTGR at New Jersey Motorsports Park flies on Saturday May 12, at 3:15pm [ET].
The event will air on SPEED Channel, May 26, 2:00pm [ET]/ 11:00am [PT]
Event info at: www.GRAND-AM.com
____________________________________________________________________________________________________________________________________________________
Partners _
Destiny Deep Sea Water
Destiny Deep Sea Water is a new healthy Mineral Water that is unique in its ability to hydrate the body quickly. The water comes from the depths of the sea in Hawaii – after a 2000-year journey that begins with the melting ice off the southern tip of Greenland. Imagine – no Chemicals, Pollutions or Carcinogens! www.DestinyDeepSeaWater.com
————————————————————————————
Oakley
Oakley, Inc. is a sport and lifestyle brand, driven to ignite the imagination through the fusion of art and science. Building on its legacy of innovative, market-leading optical technology, the company manufactures and distributes high performance sunglasses, prescription lenses and frames, goggles, apparel, footwear, and accessories.  The essence of the brand is communicated through hundreds of professional and amateur athletes who depend on Oakley products to provide them with the very best while they redefine what is physically possible. www.Oakley.com
————————————————————————————
Drift Innovation
Drift is a leading action sports technology company specializing in the capture and sharing of digital imagery across all platforms.  Drift manufactures quality cameras and accessories, inspiring action sports enthusiasts and like-minded individuals to document their experiences, capture the emotion and share their vision.  www.DriftInnovation.com
————————————————————————————
www.Facebook.com/JohnnyKanavas
————————————————————————————