NEWS _ Daytona Line-Up Set for Mitchum BMWs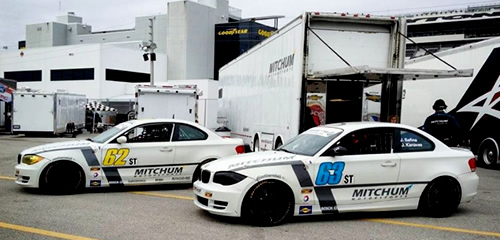 Daytona Line-Up Set for Mitchum BMWs
Kanavas, Safina, Contre and Sanchez Ready for Season Opener
Virginia Beach, VA (January 16, 2013) – Mitchum Motorsports returns to Daytona International Speedway with the teams pair of BMW 128i ST class race cars for the opening round of the GRAND-AM Continental Tire Sports Car Challenge. 2013 marks the second season for the Mitchum BMWs in the CTSCC and the team plans to make the most of last season's car development and challenge for the championship.
Headlining the driver lineup is Johnny Kanavas, who returns to the team after competing in the series in 2012. Kanavas will share the #63 Destiny Waters with Joe Safina as they tackle the high banks of famed Daytona International Speedway. Safina, who has five Rolex 24 at Daytona starts to his credit, has also previously finished on the podium in the Continental Tire Sports Car Challenge.
"This is the first time Joe and Johnny will share driving duties but I have no doubt they will be great teammates," said team principal Chris Mitchum. "Johnny raced with us in 2012 and Joe has raced for me in a couple of Rolex 24 events so I know their personalities and driving styles – these two guys, in this BMW, are going to be a strong contender for a podium finish."
Mitchum's sister BMW will be co-driven by Izzy Sanchez and Christophe Contre. Sanchez competed in the Continental Tire Sports Car Challenge series in 2012 racking up three top-ten finishes along the way. Both drivers have tested over the off-season with Mitchum and have shown great speed in the #62 BMW.
Follow the race live on www.GRAND-AM.com Friday January 25th at 1:45 PM via live timing and scoring or follow the team throughout the season at www.mitchum.ms and www.facebook.com/mitchummotorsports.
About Mitchum Motorsports
Founded in 2001, Mitchum Motorsports competes in multiple professional and club venues, including the GRAND-AM Rolex Series and Continental Tire Sports Car Challenge, N.A.S.A, SCCA, and PCA.
Since 2010 the team has been a mainstay in the GRAND-AM Continental Tire Sports Car Challenge and Rolex Series campaigning a pair of ST class BMWs, a pair of GS class Camaros and a GT class Porsche. The 2013 season GRAND-AM season will see a focused effort on the ST class BMWs as the team competes for the championship.
Away from the track Mitchum Motorsports specializes in race car construction, development, preparation and trackside support, as well as performance street car service.
For more information and to follow the team all season long visit www.mitchum.ms.
source _ mitchum.ms