NEWS _ Mitchum Motorsports Come Back at Barber, Take Time to Focus on Mid Ohio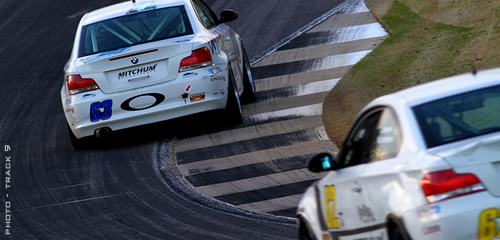 Mitchum Motorsports Come Back at Barber, Take Time to Focus on Mid Ohio
Virginia Beach, VA (April 16, 2013) – Heading into Round-3 of the GRAND-AM Continental Tire Sports Car Challenge at Barber Motorsports Park, the team was confident and ready to bring home a solid finish.  Veteran team-driver Johnny Kanavas was paired up with Canadian Adam Isman, which proved to be a promising lineup for Barber.
Isman and the #63 would face a horrific crash that would threaten to take the Mitchum Motorsports/Destiny Deep Sea Water 128i out for the rest of the weekend.  A small oil leak eventually trickled to the rear tires causing Isman to leave the track and meet the wall at a high rate of speed.  Thankfully Adam walked away from the dramatic incident unhurt.  With an additional small incident for the sister #62 car in morning practice, the team had their work cut out and would fix both machines to make the race the next day.  After all the hard work the crew put in, the #63 would start 29th, with Isman and Kanavas bringing her home in 15th, while the #62 finished 18th.
"I was really lucky to escape serious injury in the crash on Friday and the crew did an incredible job getting the car back together.", said Adam Isman.  I wasn't sure if we were even going to race so it felt great to bring the car home with a solid finish. The whole team has had a tough start to the season so I am really happy we were able to reward them with a top 15. I can't thank the crew enough for their hard work all weekend."
The Mitchum Motorsports team has decided to skip the next round of the series at Road Atlanta to prepare and focus on the original goal of the season – win races…  "Due to unfortunate circumstances that have been outside our control, we are out of the championship points already this season.  Therefore we have decided to skip the Road Atlanta round and focus on returning to Mid Ohio with our sites set on the podium.  With Barber being a tough weekend for us and having to turn around two hurt cars quickly, we're simply taking a deep breath to focus on winning races.  We will do some private testing prior to Mid Ohio with the #63 with drivers Johnny [Kanavas] and Joe [Safina] and will be stronger than ever. ", said Team Principal Chris Mitchum.
"It's not easy to come to the unanimous decision to skip a race and I know it's been quite awhile since [Chris] Mitchum has missed one.  However, this team has proven over and over that they just don't give up and I'm certain we will return at Mid Ohio as a strong threat.", said Team Driver Johnny Kanavas.
Mitchum Motorsports will be back at the Diamond Cellar Classic at the Mid Ohio Sport Car Course in Lexington, OH, June 15.  More info can be found at www.GRAND-AM.com.
_________________________
About Mitchum Motorsports
Founded in 2001, Mitchum Motorsports competes in multiple professional and club venues, including the GRAND-AM Rolex Series and Continental Tire Sports Car Challenge, N.A.S.A, SCCA, and PCA.
Since 2010 the team has been a mainstay in the GRAND-AM Continental Tire Sports Car Challenge and Rolex Series campaigning a pair of ST class BMWs, a pair of GS class Camaros and a GT class Porsche. The 2013 season GRAND-AM season will see a focused effort on the ST class BMWs as the team competes for the championship.
Away from the track Mitchum Motorsports specializes in racecar construction, development, preparation and trackside support, as well as performance street car service.
For more information and to follow the team all season long visit www.mitchum.ms.
_________________________
Video of the #63 Barber qualifying incident and comeback here -
http://www.youtube.com/watch?v=FI5lfJOBKLM
______
Preview of GRAND-AM's visit to Road Atlanta Featuring Johnny K…
http://www.youtube.com/watch?v=rc053Wr5IzI&feature=youtu.be
_________________________
twitter.com/johnnykanavas | @johnnykanavas
_________________________
source: EPRODIUS