NEWS _ Kanavas Ready To Make History At Indy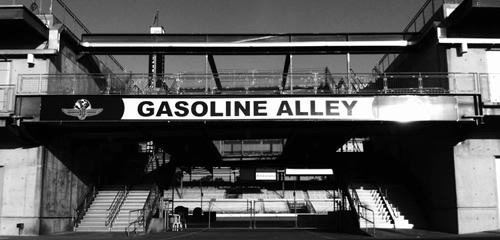 Kanavas Ready To Make History At Indy
For anyone involved in motorsports, the Indianapolis Motor Speedway is a special place.  On July 27 history will be made when the GRAND-AM Rolex and Continental Tire Sports Car Challenge series hit the track for the very first sports car race to ever be held at Indy, The Brickyard Sports Car Challenge… As part of the Kroger Super Weekend, including NASCAR's Brickyard 400, Johnny Kanavas and the Mitchum Motorsports team are excited and proud to be a part of this history-making event.
The Mitchum team recently attended the GRAND-AM Test Days at Indy to prepare for the upcoming Round-8 of the Continental Tire Sports Car Challenge.  Making some solid progress with the setup of the #63 BMW 128i, the team is very confident in the package they have for the race.  "We are really getting to know this 1-series chassis and have gained a lot of valuable info during the test." reported Kanavas. " We were fast and our car works well with the specially developed I-Spec Continental Tire, so we feel good coming into the race at Indy…"
Full-time Team Driver Johnny Kanavas will have a new co-driver for the Brickyard Sports Car Challenge with Zach Lutz joining the team.  "Zach is a great fit and his experience in the series is a great asset.  At the test, we were both quick, with very similar feedback and we gelled well together, which should make for a great partnership at Indy." said Kanavas.
The #63 will also be sporting a brand new paint livery starting at Indy and running through the rest of the season.  Kanavas continues to represent partners Destiny Deep Sea Water, Oakley, and Drift Innovation for the 2012 season.  "I'm very excited to be racing at Indy and thank Destiny Deep Sea Water, Oakley, Drift Innovation, and Mitchum Motorsports and everyone else involved for the opportunity and support." commented Kanavas.
The 2.5-hour Brickyard Sports Car Challenge as part of the Kroger Super Weekend at the Indianapolis Motor Speedway happens on July 27 with both qualifying and the race taking place the same day.  The green flag flies at 1:00pm [ET] / 10:00 [PT].  For more information and live timing & scoring, visit www.GRAND-AM.com
___________________________________________________________________________________________________________
___________________________________________________________________________________________________________
Partners _
___________________________________________________________________________________________________________
www.Facebook.com/JohnnyKanavas
___________________________________________________________________________________________________________
More Indy Articles -
> http://www.grand-am.com/News/GA_News/tabid/141/Article/50515/track-changeovers-among-the-big-stories-of-super-weekend.aspx?cid=6383&sid=1
> http://www.grand-am.com/News/GA_News/tabid/141/Article/50480/ims-test-practice-reports.aspx?cid=6383&sid=1
___________________________________________________________________________________________________________
source _ EPRODIUS