NEWS _ Mitchum Motorsports signs Johnny Kanavas for GRAND-AM 200 at Daytona
Mitchum Motorsports signs Johnny Kanavas for GRAND-AM BMW Performance 200 at Daytona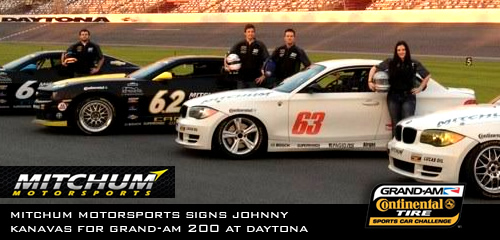 San Clemente, CA (01.13.12): Professional driver and driving instructor Johnny Kanavas joins the Mitchum Motorsports Continental Tire Sports Car Challenge BMW team for the 2012 GRAND-AM 200 at Daytona International Speedway, January 26-27. Held in support of the historic 50th anniversary of the Rolex 24 at Daytona endurance race, the GRAND-AM 200 will mark the start of the CTSCC championship for 2012.
Kanavas joins 2011 CTSCC championship contender Sarah Cattaneo in the #63 Destiny Deep Sea Water, Makita Power Tools, Mitchum Motorsports BMW 128i, ST-class entry for the first round of the series.
"To be racing a BMW at Daytona is an amazing opportunity and I'm very pleased to be doing it with Mitchum Motorsports. Chris Mitchum has put together a strong assault on three GRAND-AM classes (GT, GS, ST), and I'm proud to be a part of it."  Kanavas adds – "I'm dedicating our effort to my late Grandfather (a retired car designer from Detroit) who recently passed away."
Kanavas would like to welcome partners Destiny Deep Sea Water and Bill Brewster Independent Porsche to the GRAND-AM Continental Tire Sports Car Challenge Series and thanks them for the support.
The green flag for the GRAND-Am 200 flies on Friday, January 27 at 1:30pm [EST]. For more information, visit: www.grand-am.com
________________________________________________________________
Johnny Kanavas is a professional driver and driving instructor based in Southern California with over 20 years of competitive driving experience. Kanavas' racing experience ranges from go-karts to Touring Cars to professional drifting and 24-hour endurance racing. Johnny K is a professional driver and driving instructor working, representing, and driving for several auto racing teams, racing schools, auto manufacturers, hot-lap programs, performance driving clinics, defensive driving programs, training militarty agents, stunt/precision & performance driving for film/TV/video/demonstrations & exhibitions.
Kanavas has marketing opportunities available for the 2012 season of the GRAND-AM Continental Tire Sports Car Challenge.
Visit  - www.JohnnyKanavas.com for more info.
____________________________
Mitchum Motorsports currently competes in the Grand-Am Road Racing series. Team principal, Chris Mitchum brings experience from both sides of the pit wall as a former professional driver, coach, crew chief, team manager and consultant for a number of top teams over the past 15 years. The team has drawn together a wide variety of talent from all forms of the motorsports industry to include over 45 years of professional experience from the days of Trans Am, Firestone Firehawk, IMSA, to the current American Le Mans, Continental Tire Sports Car Challenge and Rolex series. Mitchum Motorsports is now focused on bringing our team to the forefront of the motorsports industry one race at a time.
- www.mitchum.ms
________________________________________________________________
Destiny Deep Sea Water – www.destinydeepseawater.com
Bill Brewster Independent Porsche – www.billbrewster.com
GRAND-AM – www.grand-am.com
________________________________________________________________
source _ eprodius