NEWS _ Kanavas, Brooks, & Jordan Team Up For The 6-hours of Buttonwillow Presented by AEM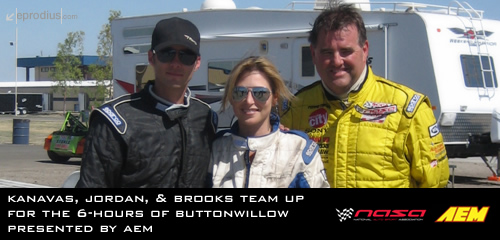 Buttonwillow, CA (06.10.08): Johnny Kanavas joined Jim Jordan, of Mazda North America, Playboy Playmate Deanna Brooks for NASA's 6-hours of Buttonwillow Presented by AEM this past weekend.
This was to be Brooks first full race weekend. Deanna received plenty of seat time before the 6-hour, piloting the #13 Mazda Miata through all practice and qualifying sessions, helping her get up to speed and comfortable with the car and track. The team then prepared for the 6-hour endurance test, with Kanavas driving the first stint.
Starting from the back of the 32-car field, Johnny K hit the track for the first time of the weekend, having not yet turned a lap in the "Beauty & the Beastie Boys" entry. When the green flag dropped, Kanavas settled into endurance mode. "Several cars began to race hard at the start. I just let them go, then came back to get by them one by one.", said Kanavas. Working their way through the field, the #13 car eventually lead the E2 class and sat in 2nd place (18th overall) at the end of Johnny's 1.5 hour stint. Brooks was up next after a smooth pit stop by the #13 crew. Deanna would encounter a little trouble with another car hitting the yellow Miata in the blind-exit "Magic Mountain" corner. After immediately pitting to check the damage, Brooks was back underway and drove a strong stint, clicking off her fastest lap times of the weekend. Jordan would take over at around the 3.5-hour mark. With only about 5-laps in, Jim would suffer the loss of the left-rear hub through the extremely fast "Talledega" section of the circuit.
After assessment of the damage, the #13 team would retire from the race. However, the team was very happy with their efforts. To come from the back of the field up to the front meant they had a strong effort and the team could only imagine "what could have been". For Brooks, "It was a lot of fun and I learned a lot. I can't wait to do it again…" Look for Brooks to make her MX-5 Cup Series debut later this season.
For more information, visit:
source: eprodius.com
photos: eprodius.com