NEWS _ The International Allstars Team Powered by Mazda Finishes Fourth at Long Beach Grand Prix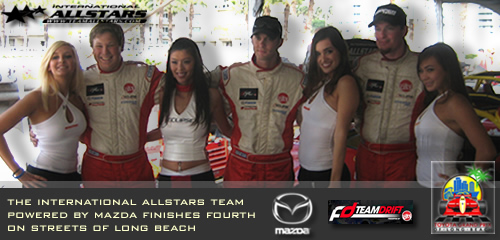 San Clemente, CA (04.23.08): The International Allstar Team powered by Mazda, with Kyle Mohan, Patrick Mordaunt, and Johnny Kanavas at the helm of a pair of Mazda MX-5s and one Mazda RX-7, took to the track this past weekend the Long Beach Grand Prix to compete in the Formula Drift Team-Drift Championship.
Setting aside the fact that the Long Beach Grand Prix is the biggest race of its kind in North America, and the biggest venue for Formula Drift in terms of event stature and crowd size, this was a big event for the team's drivers. But for Mohan, Mordaunt, and Kanavas, it was also their home event, as all live but mere miles down the freeway from the scenic Grand Prix Circuit. The International Allstars are also based in Southern California, and Mazda USA's headquarters are based in nearby Irvine – not that many of them were in the office, as with a significant number of Mazda vehicles racing in Long Beach, many of Mazda's staff were on site.
And for Kanavas, this was his first Formula Drift event – and, he'd never been on course at all at Long Beach. Mordaunt had only seen a portion of it, having competed in the Formula Drift Pro Championship event the weekend before, while Mohan had seen the full course in last year's Team Drift event.
But, in front a packed crowd and under perfect weather, the International Allstar Team powered by Mazda delivered the goods (at least once the computer in Mordaunt's car began cooperating) and came home fourth place in Sunday's judged competition, just one point off of third place. With all three cars bouncing off the rev limiter, hanging the tail out and burning down their Cooper Tires, the drivers were grinning ear-to-ear after coming off track. It's hard not to enjoy yourself when flogging a car for all its worth around the Long Beach Grand Prix course.
With the recent unification of the Champ Car World Series and the IRL IndyCar series, the rest of the Team Drift schedule is one large "TBA." But look for Mohan, Mordaunt and Kanavas to be back behind the wheel for the International Allstar Team powered by Mazda at Formula D events, drift demos and Time Attack events before the season is over.
For more information, visit:
source: shift communications group | eprodius.com
photos: spencer imaging | eprodius.com