NEWS _ Team Mazda take 3rd at Mazda Grand Prix of Portland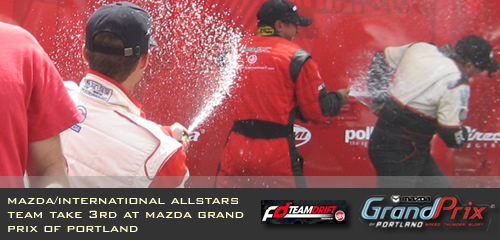 Portland, OR (07.30.08): The International Allstar Team powered by Mazda, with Kyle Mohan, Johnny Kanavas, and Colin Frost, took 3rd place in the Formula Drift Team-Drift competition this past weekend at the Mazda Grand Prix of Portland.
At the Mazda-infested Portland International Raceway, the three identical Mazda MX-5's hit the track in style.  For Round #2 of the Team-Drift series, the Allstars brought in So-Cal drifter and Formula Drift regular, Colin Frost, to round out the team.
After suffering a mechanical failure during Friday's first practice with Mohan's car, the team was down to only two cars in what is suppose to be a 3-car team effort.  Frost and Kanavas would qualify the team on Saturday, laying down a few good laps that would net them the 2nd place starting position for Sunday's competition.
Because the team was down to only two cars, Kyle Mohan would take Frost's seat for Sunday's event.  "With only two cars and three drivers, it can be tough to balance it all out.  We worked as a team to make sure we were all able to be part of the effort this weekend.", commented Mohan.
During Sunday's competition, Kanavas and Mohan laid down some solid runs, running nose-to-tail and side by side while smoking their BFGoodrich tires around the 12-turn, 1.9 mile road course.  Automatically losing points as a result of only having two cars, the Team Mazda/International Allstars did what they could with what they had and ran every lap of the session, turning in some good runs.  "We were happy with the way the weekend went." Reported Johnny Kanavas.  "We have done a lot of development with the cars and they felt much better than they did in Round-1 at the Long Beach Grand Prix".
For the remainder of 2008, keep looking for the International Allstar Team powered by Mazda at Formula Drift events, drift-demos and Time Attack events before the season is over.
For more information, visit:
event photos at > www.theracesite.com
source: eprodius.com
photos: eprodius.com