NEWS _ Kanavas and Payne head to Daytona for Grand-Am Test Days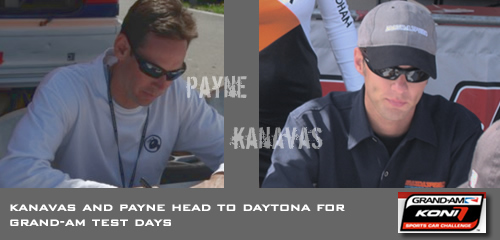 San Clemente, CA (01.02.09): Professional Drivers, Johnny Kanavas and Byron Payne are heading to Daytona International Speedway for the Grand-Am Koni Challenge's January Test Days, Jan. 3-5.
Kanavas and Payne have been working with both teams and potential sponsors for the upcoming season.  This weekend could see these two drivers behind the wheel of a Porsche 997 along with some other possible opportunities. "We are working on a few programs for 2009 and hope to be able to announce something soon. It may be only a partial season effort, but we are confident we can bring home some strong results." said Payne
Johnny Kanavas comes from a closed-wheel background including the Playboy MX-5 Cup, Mazdaspeed Miata Cup, World Challenge, Koni Challenge (testing/development), endurance racing, and Professional Drifting. The majority of Byron Payne's background is in open-wheel racing, including Formula Atlantic, Indy Lights, Super Vee, Formula Vauxhall, and more, along with his first Koni Challenge race in 2008 at Watkins Glen. Both Kanavas and Payne are professional instructors and drivers, spending sxmost of their year working for racing schools, auto manufacturers, driving demos, hot lap programs, racing, etc. The two have worked closely for years and are partnering to take on the Koni Challenge as a strong and confident driving team.
For more information, visit: