NEWS _ Kanavas Prepares for Formula Drift Pro-Am Nationals @ Irwindale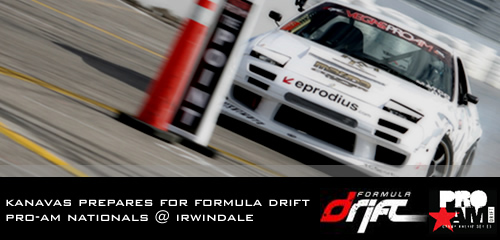 San Clemente, CA (11.18.09): At the 'House of Drift', the most famous drift circuit in North America, Johnny Kanavas will compete in this weekend's Formula Drift Pro-Am Nationals at Toyota Speedway in Irwindale, California. On the line will be the chance to win a Formula Drift Pro Championship license. Only a select few drivers are granted a Formula Drift Pro Championship license each season, and they must compete at this event.
"Johnny K" will be driving the Kyle Mohan Racing Mazda RX-7 FC3s, which he drove to the runner-up position at the Formula Drift Pro-Am event at Las Vegas Motor Speedway in July. The Las Vegas event was the first organized drift competition that Kanavas has entered, but the veteran road racer looked like a veteran drifter as he dragged the rear bumper of the Mazda all the way to the podium.
"The Pro-Am event at Las Vegas was a strong showing for us", said Kanavas, "and we looking for another strong finish at Irwindale.  I wasn't sure what to expect in Vegas and came away amazed at the competition, the final was intense. I imagine that the bar will be raised again with the Pro-Am Nationals at Irwindale and I'm extremely focused and the car is well prepapred. Drifting the bank in the Kyle Mohan Racing Mazda RX-7 is something I am really looking forward to, and I am aiming for one of those Formula Drift Pro Championship licenses for 2010."
The Pro-Am Nationals kicks off with a two-hour practice session on Friday, with qualifying and top-16 competition taking place Saturday afternoon. The event will be covered on a live blog at www.everythingdrift.com.
For more about the event and to purchase tickets, visit: www.formulad.com
About Kyle Mohan Racing
Kyle Mohan Racing competes in the Formula Drift Pro Championship aboard a 2009 Mazda RX-8, with support from Mazda USA, Mazdatrix, Cooper Tires, Exedy, WPC, Idemitsu, Turbonetics, Mishimoto, JIC Magic, TCSportline, KAAZ, F&L Racing Fuel, MSL, Haltech, XXR wheels and AIT Racing. For more information, visit www.kylemohanracing.com.
About Johnny Kanavas
"Johnny K" is a professional driver and driving instructor with racing experience from drifting and karting to SPEED World Challenge, Playboy MX-5 Cup, sports car endurance racing, stock cars, off-road and more. Kanavas works with several racing/performance driving schools, hot-lap events, auto manufacturers and performance driving programs, along with precision driving for film/photo and private driver coaching. Johnny has his sites set on trying to make a limited Formula Drift schedule for 2010, if he earns his license in Irwindale. Kanavas is also the owner of eprodius.com, a media development company catering to the motorsports industry and beyond.
Partners:
Mazdatrix
KMR
eprodius
Cooper Tire
source: Shift Group