Blog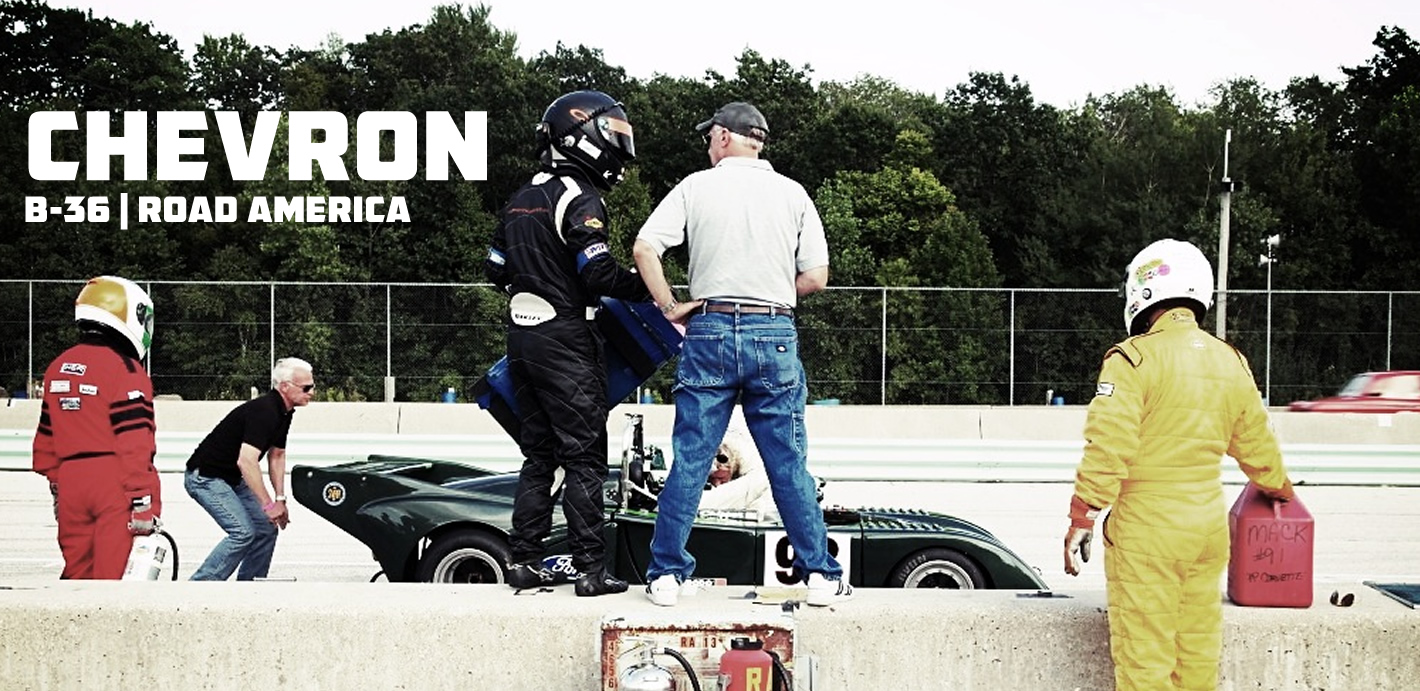 Last weekend I headed back to one of my favorite places.  A place I have been coming to for as long as I can remember and where my racing career began – Road America for the VSCDA Elkhart Lake Vintage Festival.  This time I was invited back to drive the gorgeous #93 1976 Chevron B-36 owned by Chip Halverson.  I was fortunate enough to first be offered a drive in the car (along with a beautiful Brabham BT-29 Formula B car) during "The Hawk" event back in July of this year, where we had to start in 40th, from pit lane, and finished 6th…  The car is prepped and maintained by the Yard Racing team out of Milwaukee, which is the team I began my racing career with.  I really enjoy and have missed vintage racing with these guys as it is truly some of the most enjoyable racing around with the most incredible cars of all time.  I was excited to head back to one of my favorite places and this time I brought my dad and my better half with me.  So, after a couple busy days coaching out at Miller, I flew home, repacked, grabbed the Mrs., and headed out early the next morning to Milwaukee.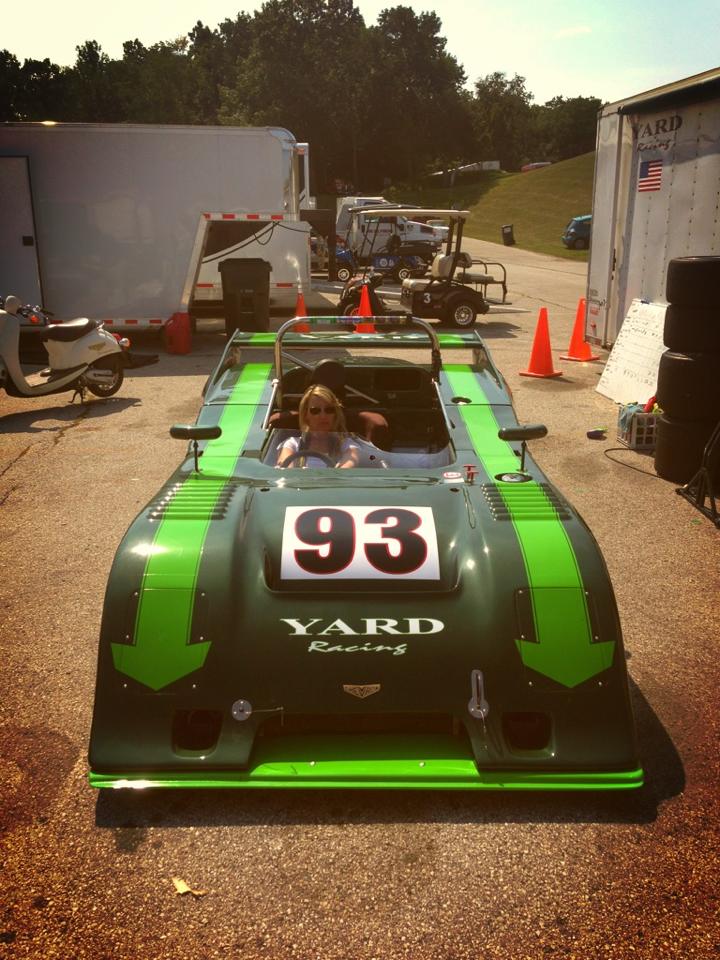 Night one was a good night of catching up with the guys over dinner along with the obligatory visit to Seipkins for a beverage or two…
Friday was the 1-hour enduro race that I would drive in with owner Chip Halverson.  We originally planned to run the race with my good friend Bruce Sutherland as my co-driver, but because of VSCDA rules, only one "guest driver" was allowed.  So the plan was simple – Chip start the race and has to run at least five minutes, then hand it over to Johnny.  The race went green and after two laps Chip would pit the #93 for a top-off of fuel and driver change.  I jumped in and prepared for what would be an incredibly fun stint.  After our stop, we re-entered the track in the 30th position.
Remembering how much grip the car gave me back in July, I was determined to trust and push the car further this time, seeing what B-sports racing was really like back in the day.  Soon after we pitted a full-course caution came out for a car that had a big incident in the treacherous "Kink".  When the thing went green again it was time to start moving and we did.  I fell into a groove with the car and was really able to find how much corner speed the car had.  This thing was a blast to drive and I began to run harder laps finding that the car would just keep going and going.  The Hewland gearbox shifts like butter, the Ford Cosworth YBM 2-liter just screams with torque, and the Yard Racing boys have the setup dialed.  However, as time went on I began to experience a few  uncomfortable moments in the car.  Coming into a few of the extreme brake zones (Turns 1, 5, 8, 12) the brakes would become too hot and stopping power dropped A LOT!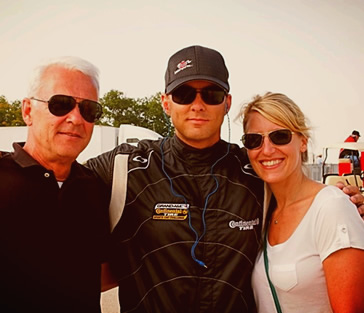 It was the VERY fast entry of Turn-12 that first woke me up.  As I rolled out of the throttle flat out in 5th gear and began to dip into the brakes I was immediately awaken by the fact that I was NOT slowing down.  The pedal was still solid, but the pads were just NOT biting…  (brake ducts were half taped off and they got too warm).  I quickly began to go down through the gearbox, taking some pressure off the brakes, then began to turn in to the corner to help scrub some speed then brush the brakes which all seemed to work out and we carried on, thankfully.  The lack of brakes did happen a couple more times, so I was just a little more aware and careful, but still pushed.
Towards the last ¾'s of my stint I could see that I was catching a Lola T-70 Spider.  The Lola was not in the same class and is a Can-Am car (vs. our B-sports racer) with at least twice the horsepower.  As I came by the team on the front straight I saw them signaling me to go and catch the Lola, so I put my head down and pushed.  I began to push the Chevron even harder and could catch the Lola through the tighter stuff, but as soon as we hit the straights he would pull away with big HP and again open the gap.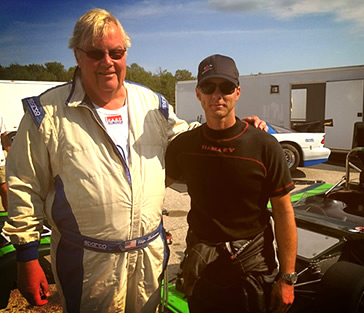 Once the checker came out we found that we finished 1st in our class, 6th overall and clicked off the second fastest lap time of the race, only two-tenths off the Lola T-70 Can-Am car's time.  Not bad for a little B-36…  Overall it was a very good race, a hell of a good time, and we turned a few heads with many asking, "Who was in the Chevron in the enduro…?" after a good chase with the T-70…
The night that followed was another classic night in Elkhart with some great friends and family.  A phenomenal dinner at Swartz's hosted by Mr. Halverson followed by a some time at Seipkins made for a great evening.  The next couple days were sprint races for all classes and I spent the rest of the weekend watching, helping the crew, doing a little driver coaching, and just enjoying Road America.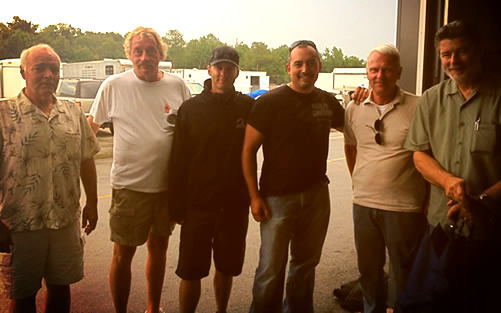 One of the best parts of the weekend was having my very good friends Neil & Thanh Dombroe, and my cousin Steve up to the track to hang out with all of us.  It's been a long time since all of us were together…  Saturday night the Osthoff Resort had a Pebble Beach-esque car show on the grass, complete with jazz band, perfect Elkhart Lake sunset, and some cool vehicles.  Saturday turned into perhaps the biggest night for all of us as we found ourselves closing Seipkins at some ungodly hour.  Dad and Bruce were having WAY too much fun and that is what this trip was all about…
Another highlight of the weekend was seeing Formula Ford driver Mike Popp win his very first race ever in his Sunday race.  I spent some short time coaching Mike through the weekend and am so happy for his win.
We ended our weekend in Milwaukee with T and I staying downtown for the night and eventually heading over to the Yard Racing shop the next day to visit where it all began for me…  I can't thank Dan Wilke, the Yard Racing guys, and of course Chip & Patty Halverson enough for their generosity and hospitality throughout the weekend.  I feel so fortunate to be able to sit behind the wheel of such an incredible and historic racecar with such good people at my favorite race track.  This was one of the most enjoyable weekends we've had in a long time and can't wait to do it again…